Client: Technicon Inc.
Scope: On September 28, 2018, Smithbridge was engaged by the Naval Base in Guam to replace Micronic Filters and FWS Filters as well as install a Product Recovery Tank.
The scope included:
removal of the existing carbon steel,
JP-5 issue micronic pre-filter and filter separators (F/S) vessels and associated appurtenances,
provide aluminum or S/S ASME BPVC SEC VIII D1 microni pre-filters and EI Specification 1581,
5th Edition/ASME BPVC SEC VIII D1 F/Ss,
installation of stainless-steel piping system,
installation of a 1500-gallon double wall stainless steel PRT and associated appurtenances.
Micronic filters are used as pre-filters for the efficient and continuous removal of solids such as rust, sand and other particulates from aviation fuels. Aviation fuel is passed through the filter of pleated paper/synthetic fibre medium which removes the solids. Micronic filters prevent the passage of solids larger than about 10 microns, and are normally replaced with new filters rather than being cleaned. In addition, filter/water separators (FWS) are designed to remove water and particulates from aviation fuels. Replacing and checking the filters regularly is a requirement for all aviation fuels.
Since the project's location was near the Delta-Echo Piers, all the construction activities were performed safely and on time to ensure minimal impact to the existing on-going pier operations.
Having experiences in working with critical conditions and strict requirements, Smithbridge's Project Management team, together with its highly skilled and experienced field crew successfully and safely completed the project in the given schedule without compromising the quality of the work.
Project scheduling
Prior to project implementation of a high-risk project, Smithbridge Construction Manager created a Project schedule which listed down all the resources needed for the project, including manpower/staffing. See Attachment 1 Micronic Filters project scheduling, which shows the demolition, replacement and installation schedule of three Micronic trains as well as the installation of the Product Recovery Tank, stainless steel piping, pumps and instruments. Smithbridge takes pride in having highly skilled, trained, and motivated individuals working as a team for fuelling operations. Smithbridge also emphasizes an environment where open dialogues when planning scheduled activities are encouraged.
Lift Plan
During the demolition and installation phase of the filter vessels, there was a limited working area and radius for the crane to fully operate. To plan for this, Smithbridge's in-house lift engineer assessed the job site to optimized the rigging and lifting process to enhance productivity, safety, and quality of work during the operations. In addition, an engineered mechanical lifting device was designed and fabricated to ensure that the existing and new fuel filter vessel could be lifted safely without compromising the quality and integrity of the vessels.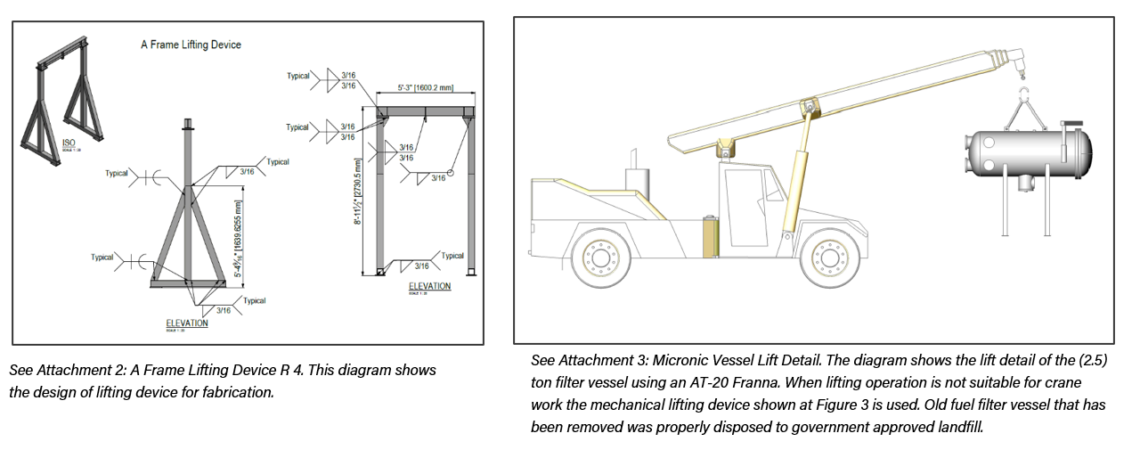 Specific Project Obstacles or Difficult Circumstances Overcome
Scheduling was a challenge for the project as the location was on a working pier. The fuelling pier was still in operation thus we had to coordinate with the Navy when emergency and unannounced fuelling operations occurred. Smithbridge had to be adaptive and swift to accommodate incoming vessel to the fuel station. Without notice for security reasons, we had to halt production (when performing any hot work) to allow any vessel to load and offload. This happened approximately every 10 days. Our careful coordination with the client ensured that we met the project completion date despite these frequent halts.
Timeline:
Commencement: 28/9/2018
Completion: 12/9/2022
This project won the 2022 Project Category Federal Government/Military-less than $10 million Award for the Guam Contractors Association's annual Excellence in Construction Awards.