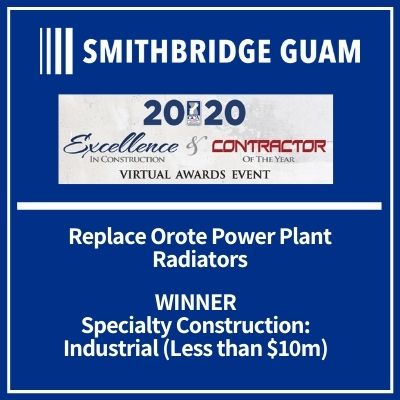 Client:          TECHNI-CON INC.
Project:          Replace Orote Power Plant Radiators, Naval Base, Guam
Scope:            In February 2018, Smithbridge Guam was sub-contracted under TECHNICON to replace the Heat Exchange radiators at Orote Point Power Plant at Naval Base Guam. Smithbridge performed the procurement, design reviews, site inspections of equipment during manufacture. This also included all crane operations and local transport of all equipment. Site works performed consisted of demolition of old radiators, installation of new radiators, manufacture and install of all auxiliary pipework.
Winner of Excellence in Construction Award 2020
As part of the Guam Contractor's Association annual Excellence in Construction Awards in 2020, this project won in the category of Specialty Construction: Industrial (Less than $10 Million). The Excellence in Construction Awards promote quality craftsmanship in the industry and celebrate and reward construction projects across Guam. The awards have been running in Guam since 1997 and are a prestigious honor and coveted award to receive in such a competitive industry.