Our company is celebrating our momentous 30 year milestone throughout 2022, highlighting stories, memorable projects, and the people past and present who have driven the company's achievements. We want to thank the team and everyone who has being part of our growth and continued success throughout the years.
When we made the move to Guam back in 1992, we had a clear vision: to provide integrated construction solutions to military and private clients while creating meaningful connections, activities and services to the Guam community. We are island proud and love supporting local government, charities, and associations. Looking back, it's been wonderful to see the momentum the team has built over the years — and that original vision remains just as important today.
For three decades the Smithbridge Guam brand has been synonymous with full-service construction, and it remains the market leader to this day.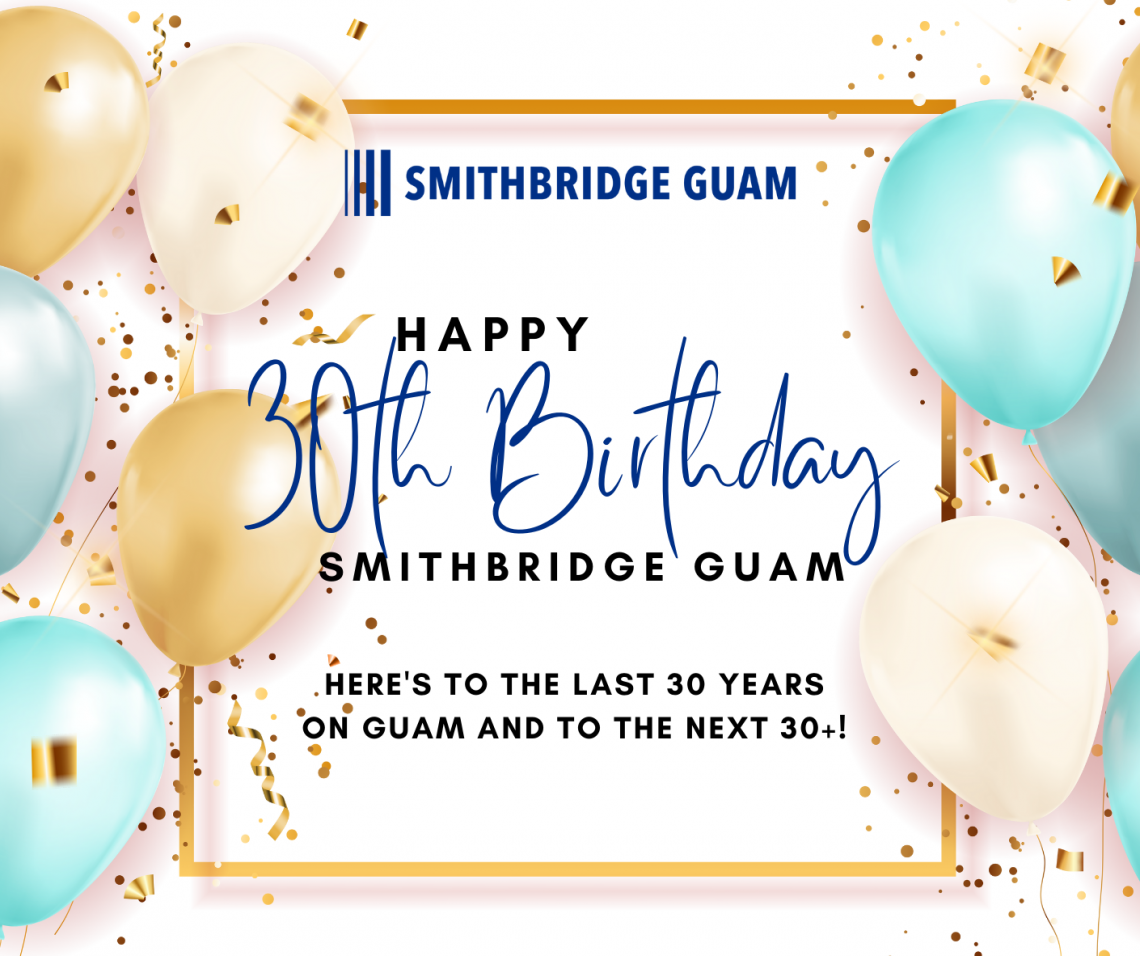 As we mark the 30th anniversary of Smithbridge Guam, we took the opportunity to explore our archives. Here are some key moments from the past 30 years.
2020 purchase YaTung concrete assets to expand concrete production to Harmon
2020 Guam Contractors Association excellence in construction awards – Smithbridge takes home 5 wins!
2020 Smithbridge purchased five All Terrain cranes from sister company Universal Cranes in Australia.
2020 Smithbridge Guam commences precast supply supplied the precast concrete panels for 186 Precast Housing Units to be completed over a 20-month duration.
2019 Smithbridge held a Thank You and Networking event in October 2019 at the Westin in Tumon.
2018 Smithbridge Guam brand refresh
2018 Smithbridge Guam was thrilled to be recognised at the Guam Contractor's Association Awards.
2016 Smithbridge purchase JPlanning concrete plant on our Yigo property and enter wet concrete market on Guam
2006 – 2008 Smithbridge dredged approximately 160,000 cubic meters of silt disposal. The dredge platform utilized was built by Smithbridge and was equipped with state-of-the-art 3D GPS positioning software to indicate to the operator in real time the area and depth to dredge.  Due to the proximity of the coral reef, strict environmental guidelines were imposed by the US Environmental Protection Agency.
2005 – 2006 Designed and built a 130 meter revetment wall using armor rock produced by Smithbridge's quarry and within US Army Corps of Engineers' specifications at ComNavMar
2004 – 2005 Engineered design, fabricated and installed 16 precast concrete piles and 4 precast concrete backing panels for submarine berthing as part of the repairs and improvement to Romeo and Sierra Wharves
2003 purchase Rocky Mountain Precast
1998 the team worked on a Sheet pile retaining wall / pile cap and rock revetment wall at the Echo/Delta Wharf Apra Harbor
Throughout 2022, Smithbridge Guam will be sharing stories about its people, products, and history on social media and their Smithbridge Guam website.